BE THE ONE TO
SAVE A LIFE!

. IT'S

EASY

. IT'S

PAINLESS

.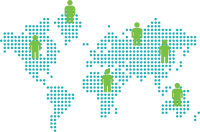 Are
YOU

the

ONE

?
LEARN
Become an informed donor. Being an informed donor is a vital part of the donation process.
REGISTER
Complete a health assessment form. Processed in 5 business days. Receive a buccal swab kit.
Acute myeloid leukemia (AML) is the most common type of blood cancer in adults. If untreated, it usually progresses quickly.
Acute myeloid leukemia is also called acute myelogenous leukemia, acute myeloblastic leukemia, acute granulocytic leukemia, acute monoblastic leukemia and acute nonlymphocytic leukemia.
More about AML
Caucasian 70%

Chinese 7%

Filipino 1%

South Asian 6%

First Nations 1%

Black 1%

Other 6%

Multi-ethnic 2%

Unknown 2%
Ethnic Composition of OneMatch Database
(December 31, 2016. OneMatch Stem Cell and Marrow Network)